Chateau Clerc Milon Pauillac 1998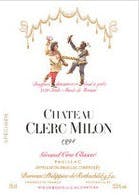 The wine has a lovely, deep colour with a cherry tint and a bouquet which displays powerful berry fruit and blackcurrant aromas alongside toast and roasted coffee. From a creamy attack with plenty of heft, fruity and pleasantly oaked, it builds on well-developed, forward tannins to a body rich in ripe fruit flavors which combine the character and power of blackcurrant with the elegance and refinement of vanilla. The finish, long and flavorsome but still rather reserved, gives a foretaste of the full potential of this generous vintage.
Wine SpectatorAromas of earth, spices and blackberry follow through to a medium body, with fine tannins and a delicate fruity finish. Some currant. Needs drinking.-'88/'98 Bordeaux retrospective (2008). Drink now.