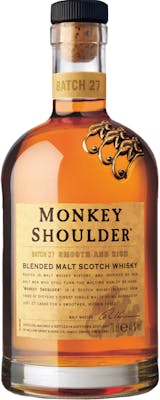 SKU: 58955
Monkey Shoulder Blended Malt Scotch Whisky
---
---
Some say it tastes just like riding bareback on the wild moors of Scotland with a flame haired maiden on Christmas morning. Others agree it tastes like 007 wearing a tuxedo wetsuit. If you haven't tried either yet but want a handy little cheat sheet to check out, here you go - but remember it's completely up to you, what you think it tastes like. Zesty orange meets mellow vanilla, honey and spiced oak nose. Mellow vanilla taste with spicy hints and a super smooth finish.
Intended for mixing, so bring on the whisky sours and the Blood & Sands. Or drink this blended Scotch straight if you choose, to enjoy mouthwatering butterscotch and juicy orange, balanced by oaky tannins into the finish.
Are you 21 years old, or older?