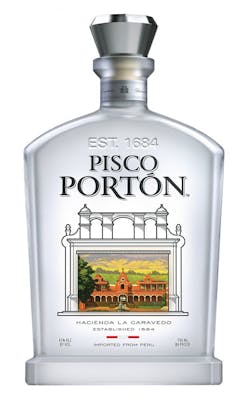 SKU: 37509
Pisco-Portón Mosto Verde
---
---
Pisco Portón is an unapologetically flavorful spirit that brings dimension and character back to the drinking experience. Taken neat, it is complex and layered. When mixed, Pisco Portón creates a whole new category of cocktails, more flavorful than vodka and more subtle than tequila. Pisco Portón is the new spirit that is actually new, with aromas and flavors sure to incite and intrigue as it opens a whole new world of cocktail possibilities. Pisco Portón is handcrafted using centuries-old distilling methods in combination with new technology to create a mosto verde pisco made from a blend of grapes that is of superior quality and true to Peruvian tradition. To preserve the full character of the grapes, Pisco Portón uses the mosto verde method of distilling from a partially fermented grape juice known as must. Our pisco is never adulterated with water or artificial flavors. What is in the glass is pure and natural.
Ideal for tropical drinks and pisco punches, this approachable, earthy-fruity pisco pops with lots of perky banana, pineapple and lychee, sliding into a spiced finish that suggests cinnamon- and cocoa-dusted pineapple slices.
Are you 21 years old, or older?