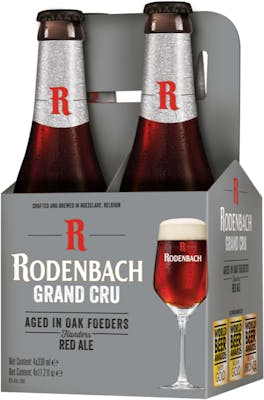 SKU: 49877
Rodenbach Grand Cru
---
---
Bright and tart with hints of ripe berries and oak, it's not a bottle of Cabernet Sauvignon, it's the distinctive flavors of Rodenbach Grand Cru, the legendary Flemish sour ale. Within its rich, ruby depths you'll discover hearty wine-like flavors that match up beautifully with strong-flavored foods, while your tongue rejoices in its refreshing effervescence and tart finish. Now, faced with the age-old question, "Beer or Wine?" you don't have to decide. Grand Cru is all you'll need.
For many, Rodenbach's Grand Cru is the benchmark Flanders red, or at the very least, a top example of the classic Belgian style. A mix of 1/3 young ale and 2/3 two-year-old ale that's aged in oak foeders, it pours a slightly muddied, dark mahogany-cherry color, with a tan head that fades fast. Tart, wild notes of vinegar, green apple, leather, barnyard and musty oak dominate the nose, while fruity tones of dark cherry and fig offer support. The mouthfeel is alive and invigorating, yet smooth and accessible, with great acidic lift and freshness that are countered by slightly plush red-fruit flavors and lingering toasted-wood and oak-spice accents. Soft, fine tannins frame the dry finish. Latis LLC.
Flanders Red Ale- a blend of 1/3 young beer and 2/3 aged beer matured for 2 years in oak foeders. The original sour ale.